Dog
Boarding
$25 per Day
Cat
Boarding
$20 per day
Day
Boarding
$18 per day for pet
'Inside' portion of each run.
4′ x 4′- and temperature controlled
'Outside' portion of each run.
4′ x 10′- plenty of space to move around in.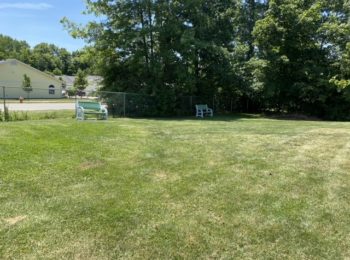 Fenced in Outdoor area-For VIP walking.
What we provide:
~Food (Joy Special Meal dog food)
~Feeding and water bowls
~Litter
~Litter pans
~Sleeping mats for cats
Vaccination Required Yearly
Please bring a current copy for us to keep on file.
Cat Vaccinations
Rabies,
RCCP,
Feline Leukemia. ( Strongly Encouraged, but not mandatory for inside cats.)
Dog Vaccinations
Rabies,
DHLPP or DHPP,
Bordatella(Kennel Cough),
We Do Not REQUIRE Influenza-but strongly encourage it for the safety of your pet
Influenza( H3N2 H3N8)
VIP Service
We offer VIP service (Very Important Pet) which is extra time spent with your pet, on a one on one basis. This time is spent as a walk on a leash on an enclosed, fenced yard. If the weather is unfit for dogs to be walked outside, we spend time with the dogs in an inside courtyard. The service is $3.00 per 10-15 minute time period, and $5.00 if twice daily.
Thank you for choosing us to take care of your pets!
All customers must leave contact information where they can be reached in case of an emergency, and the phone number of someone else in case we cannot reach the owner.
You may bring things for your pets, such as food, toys and pet bedding.
Any specific needs, such as special feeding requirements or medications will be taken care of.